Idag vaknade The House o våra boenden gick ut !!
Ja så får rubriken bli idag.Så härligt se våra äldre som klarar gå ut själva o även några andra som togs ut för att lapa sol idag.

Själv gick jag i någon sorts konstgjord vakenhet.Somnade aldrig riktigt på natten o då jag lagomt nått djupsömn dags gå upp.....


Spisade gott på lunchen .Stekt potatis o örtagårdskassler.En klassiker på jobbet.Imorgon min absolutat favvo nr 1 stekt fisk med kallsås.Onsdag kålpudding så ja jag klagar inte alls över mina dagturer denna veckan.

Syrramöte som avslut på jobbdagen o sen iväg till frissan.Vågade o ville inte längre kapa håret till nån drastisk förändring för jag vet jag raskt ångrar mig o vill hade långt igen.Dessutom stå klockan 06 o fixa frisyr inte min grej.Får bli sätta upp det trots allt jobbdagarna.
Fick skjuts hem av en slump och så vila lite.

Flisan på scouter o sonen,Drutten o Peter gav sig upp till spåret för ett löp.Tänk sånt smittar av sig.Så nice vara i farten igen o jag o Rödtoppen back on track med våra härliga bodies som vi vill ska bli väljoggade igen.Jag känner även lockelsen efter att nå harmoni i själen i och med att friska luften ihop med den rensning det blir är den otimala träningsformen för mig .Dock börjar jag bli gammal..haha.Ont här ont där ...

Hem och en go stund med Flisan där hon bara var så go hela hon.De hade haft hemligt besök på scouterna i form av brandkåren o ja brandmän kan ju släcka ...tända flickors hjärtan långt ner i ålder:)

Lite glamourtv i form av Hollywoodfruar får avsluta denna kvällen istället för som igår den sanna och så faktiskt hemska filmen Stoning of Soraya.Tror den gav mig sömnlöshet.

Blir en tidig kväll med en bok ..så gonatt bloggen o Drutten hälsar att han trivs bra med livet han också.Bara han får vara med.

Imorgon är en ytterst sorgesam dag för hans allra bästaste vän Molly kommer avsluta sitt fina liv efter en tids sjukdom.Gråter hennes familjs tårar gör vi.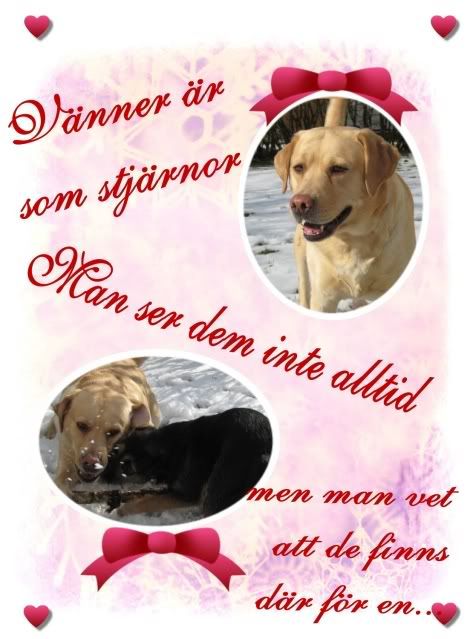 Drutten tog sitt farväl häromdagen och pussade och rengjorde hela hennes mun en lång stund.Hans kärlek.Hundar känner av och förstår mer än oss.Han har behandlat henne så varligt länge nu.Vi stod och mindes tiderna då hon och Drutten busade som tokar !!Denna bild när de var friska ihop gör mig så glad se.Molly den glada leende hunden och Drutten delar pinne.