Må
Ti
On
To
Fr
Lö
Sö

Oktober (2021)
050505




Denna lillördag onsdagen den 5 maj ska Drutten firas på sin 5 årsdag.

Han är inte bara en hund i vår familj utan har en stor betydelse för var och en.
Om han inte är här saknar vi honom.Tassande.Stora djupa sucken då han slappnar av.Pussarna.Svansviften.Glädjeskallen.Klokheten.Lugnet.





Vi glömmer inte dagen då vi hämtade honom i augusti.Liten pojke som följde med oss hem och hade en banankartong bäddad med barnens bebistäcke och en kudde i botten.Så söt var han .Så otroligt snäll redan då.



Drutten & Jena 2005

På fråga om han är en vårdarhund så är svaret ja.Min goa personal ihop med de boende har format honom till det.Mormor gjorde grovjobbet.Hon älskade honom så mycket och månade om honom som om barnbarnen.Saknar henne så oändligt just i kontakten med vår lilla hund.En sorg varje dag kliva ur bilen o veta att jag inte just lämnat av honom hos henne.Men bästa lösningen so far ändå.
Han har flera hundvakter han tycker om vara hos och det är så skönt veta att backup finns.





Är så otroligt stolt över honom och hans sätt att vara.Lika trött som jag också kan bli på att vara så tight med honom .
En riktigt psykolog har han varit och är .En tankeläsare.En vän




Han ogillar vara ensam.Då blir han inte alls lugn och trygg.Näe.Att vara med och få umgås med människor det gillar han allra bäst.Få lunka i korridoren.Sitta vackert och hoppas på något gott av de äldre.
Alternativet är få kura ihop sig? i soffan på kuddarna




eller ligga ute under busken?? i solen.




Sola är skönt.

Få löpa med oss en joggingtur i skogen eller på ängarna det är även det finfint.

Leka med vännen Molly tillhörde något av det bästa han visste.Få stjäla hennes bollar o tugga dem i bitar.Nu finns hon i hundhimlen.Vi sörjer det och har svårt ta in det .





Att ens hunds liv är kortare än vårt det vet man men jag är inte beredd att förlora min älskade vän än på många många år.




Djupt min ögonsten:)



Vår goa Drutten the original!

Ni som följt min blogg på vovve.net och här vet att han även är en sjutusan till att blogga.Går i vågor skriva säger han och snart kanske han tar över sina betraktelser igen ett slag.


Länge leve Drutten Hip Hip Hurra Hurra Hurra Hurra!!!!!Världens bästa hund.Kommer garanterat uppvaktas idag med sedvanlig rutin.Vi provsjöng ja må han leva igår och han blir så speedad o glad till tusen.Gissa om han minns o kan den sången!!Presenter? Of course..mer om det i bilder annan dag!!!




3 års tårtan:)





Tack till vår nygifta uppfödare Bengt som avlade fram en så fin hund via lilla tiken Stina!!




Nu ska jag ta dig under armen o gå upp och sova .Du har tur .Du slipper jobba på din födelsedag.Husse är sjuk och behöver tas om hand.Långrastning får du av mig vid hemkomst!!!Sen ska vi mysa.




Idag får klokskallet gå till de vi minns.Denna dag har flera innebörder.Det är även en mycket god väns dödsdag.Så texten läses i flera innebörder.Både för Mollys och Nicklas räkning.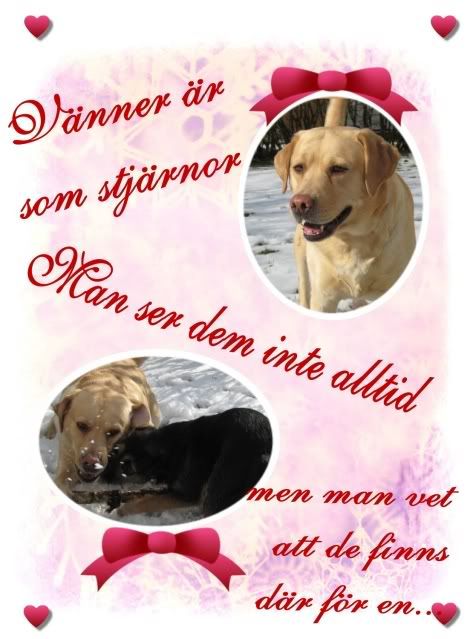 4 Maj 2010 | Dagbok